Sustainability
BUILDING BETTER
Sustainable Highlights
Guiding principles for Pavilion include smart growth strategies, new urbanism and green building practices to ensure the creation of a beautiful building.
The following will ensure sustainability of Pavilion at South Park:
Convenient location in Halifax for walkability.
Energy – efficient exterior glazing. The building envelope is being designed to an enhanced level, including a robust design with a window wall assembly.
Use of low emitting materials, adhesives, sealants and paint.
Energy Recovery Ventilation System (ERV). ERV provides fresh air and improved climate control, while also saving energy by reducing heating & cooling requirements. ERV introduces fresh air to a building to improve climate control and promoting efficient energy use.
HVAC – Four-pipe coil system for heating and cooling all the time
The following will ensure Pavilion's sustainability that differentiates the building.
Building Efficiency
Pavilion will be constructed from high-quality, low-carbon materials, and its qualifications will exceed code. These measures also serve to reduce operating costs for residents.
Smart Location
Pavilion will feature a balanced combination of residential, retail and open space—places to live, work and play. Residents will be able to enjoy downtown's eclectic restaurants, cafés, shops, and the vibrant art and theatre scene–all within walking distance. Stroll the Public Gardens or walk to the waterfront, hike Citadel Hill or jog around Point Pleasant Park. Living at Pavilion will offer the ultimate convenience and open green spaces.
Reduced Dependence On Cars
Pavilion's prime downtown location will make it an incredibly walkable, accessible and bicycle-friendly place to live, allowing for reduced dependance on automobiles. Interior parking will feature ample bicycle racks to encourage this environmentally-friendly mode of transportation.
Access To Open Space
Pavilion will include an open, public court yard to encourage social engagement and gathering in the heart of the city – directly across from two of the city's finest green spaces. Surrounded by natural greenery and historic ambiance.
Sustainability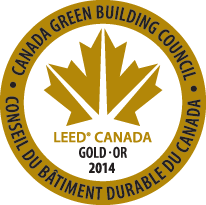 Pavilion will be targeting LEED® Gold certification. Southwest Properties and its partner, Streamliner Properties believe in third party certification. Both parties are firm believers in creating superior, well designed, high quality and the most advanced residential product.
Southwest recently achieved LEED® Gold with another residential project within Halifax. The Grainery Lofts received the distinction as the first privately owned and developed, multi-unit residential building east of Montreal to be awarded the designation.
LEED® certification is based on the total point score achieved, following an independent review. With four possible levels of certification (certified, silver, gold and platinum), LEED® is flexible enough to accommodate a wide range of green building strategies that best fit the constraints and goals of particular projects.
Building Better…
Leadership in Energy and Environmental Design (LEED®) is a rating system for the design, construction and operation of high performance green buildings, homes and neighbourhoods. LEED® promotes a comprehensive approach to sustainability by recognizing performance in five key areas of human and environmental health:
SUSTAINABLE SITE DEVELOPMENT
WATER EFFICIENCY
ENERGY EFFICIENCY
MATERIALS SELECTION
INDOOR ENVIRONMENTAL QUALITY
*Specifications subject to change. Availability of products change from time to time and vendor reserves the right to supplement item or upgrade at anytime due to unforeseen issues.