YMCA announces Southwest as developer
The YMCA of Greater Halifax/Dartmouth announced today that it has secured Southwest Properties as its development partner to build a new 70,000-square-foot YMCA Centre of Community on the corner of South Park and Sackville Streets in downtown Halifax.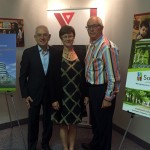 After a comprehensive and competitive selection process, the YMCA is greatly looking forward to working with Southwest and Streamliner Properties on this legacy project," says Stuart MacLean, Chair of the YMCA Board of Directors.
The new YMCA Centre of Community, set to open in late 2017/early 2018, will be part of a larger mixed-use private development. The new centre will include a public atrium, aquatic centre, gymnasium, indoor track, strength and cardiovascular conditioning spaces, program studios, change rooms and a licensed child care/family development centre.
"We are very excited to take this next step to bring a new YMCA Centre of Community to Halifax and the surrounding region," says Bette Watson-Borg, President and CEO of the YMCA of Greater Halifax/Dartmouth. "The new Centre of Community will allow the YMCA to have a transformational impact on the health of thousands more people by providing critically needed space for programs and services."
The joint YMCA and CBC/Radio-Canada properties located at the corner of South Park and Sackville Streets will become the site for the new YMCA Centre of Community and a private mixed-use residential development. The South Park YMCA closed on May 30, 2014 in order to move forward with these plans.
"This is a wonderful opportunity for us. One that we take very seriously given the impact and longevity of the facility in our community," says Jim Spatz, Chairman and CEO for Southwest Properties. "We are humbled to be partners with the YMCA in building a new legacy that will serve the community for another half century and beyond."
The YMCA remains committed to building healthy communities and will continue to offer programs and services in the areas of Health and Wellness, Employment Services, Child Care, Residential and Day Camping, Immigrant Programs, and Youth and Leadership Development.